Can I purchase 100% online?
We can complete most of the transaction online and  from the comfort of your home. Documents will arrive to you in an overnight package via UPS and contain a return envelope to get the transaction completed as quickly as possible.   Here is a link to our finance application to get you started
here
. 
How long until I get my car delivered?
Delivery times will vary based on location. A local delivery by porter or salesperson is usually on the same day or as soon as the next day. Third party transport to out of state typically takes 3 to 5 days and up to 10 days depending on your location. 
How much is shipping?
Shipping fees vary based on location. Check our Home Delivery page for an estimated shipping cost.
How can I trade in a vehicle if I am getting my car delivered?
We will arrange all delivery and paperwork if you are trading a vehicle online. 
What if I do not like my car?
We offer 7 days satisfaction guarantee. We will work with you to find the best solution, whether it is exchanging the vehicle or returning it. 
Can I have more pictures?
We appreciate it can be difficult to make a decision when you're unable to personally inspect the vehicle. We can help by doing a live video walk-around the vehicle where we show you all aspects of and you can ask any questions. We are also happy to provide any extra pictures to help you make your decision.
When is my first monthly payment due?
The typical first payment due dates are 45 day from purchase date. However some of our lenders currently are offering 90 days to first payment.
Can I get pre-approved before visiting your office?
Yes, we can secure a no obligation finance deal for you, with affordable monthly payments, without you having to visit us. To arrange this in advance we would need some basic information from you, so please just give us a call on 336 271 5987 and we can talk you through it.
Can I drive away the car on the same day?
Yes, you are required to add the purchased vehicle to your insurance policy within 24 hours of the purchase date. 
Which lenders do you use?
As an independent dealer, we are able to search the market to find you the very best deals available. We partner with more than 40 banks and credit unions to offer you a broad spectrum of options.
What happens to existing finance on my trade in?
Once we value your car we can settle your existing finance for you directly with your finance company and if there is any equity you can put that down as a deposit against the new car.
What if I have bad credit?
Having bad credit doesn't mean you can't borrow money to buy the vehicle you need, but it may mean some lenders won't approve you. We are specialists in helping customers with bad credit get a car loan and have arrangements in place with certain partners to help in these cases.
Why Buy a Car Online?
Are you in search of your next automotive purchase? If so, you may be wondering what the easiest way to buy your next car. At our store, not only do we specialize in selling used cars, but we also specialize in online car sales. Which means that you can quickly and easily find the right car, truck or SUV for your needs.
Shopping for a used vehicle should not have to be difficult. When you opt to shop online, you can quickly and easily find the ideal model for you. Which is something that you are sure to appreciate.
Below is a map that shows our estimated shipping and handling fees: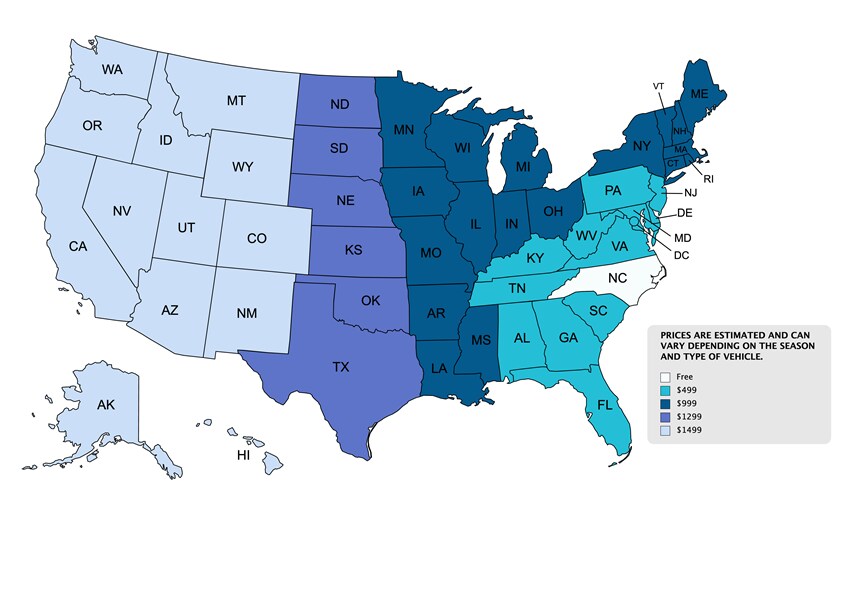 Can I put no money down?
Yes, You may be able to put as little as $0 down.
Can I use my bank or credit union to finance the car?
Yes you have that option, but most of our customers realize we have highly competitive rates and our process will save you money and most importantly time.
Can I use my credit card for a down payment on my car?
Yes, you can use up to $3,000 on your credit card as a down payment.
What are my options if I do not have a down payment?
Depending on your credit situation, you may be able to finance a car with no money down. 
What documents do I need to bring for finance?
You need to bring your driver license, paystubs, and your insurance card. 
What would my interest rate be?
Your interest rate is dependent on your credit score, the vehicle you are financing, and loan term length.
Why is my trade value low?
We utilize America's most trusted automotive resources to value the trades. If you think the trade value is too low, we would be happy to show you exactly how we arrived at that number. 
Do you work with bad credit?
Yes, we work with all types of credit. If your credit situation is difficult, we will do our best to find you a car that would work for you and the bank. 
What would my payments be?
Payments vary depending on the car value, down payment, and the rate of interest. Use our payment "Customize Payment" feature on the vehicle of interest to get a payment estimate. 
Benefit from Impex Direct
Through our online sales specialists, we are well-equipped to help with your car buying needs. We understand the ins and outs of online car sales. Which is something that will keep you from having to settle on your next automotive purchase. If you are planning to finance your vehicle, you can do so online. Which will allow you to quickly and easily secure the financing that you need to make your purchase possible.
You can start the car financing process by applying for financing online. We have the ability to work with a variety of lenders. That way, we can secure you ideal rates on your automotive loans. Once you are approved for financing, you can pick the kind of plan that works for your needs. We will send the paperwork to you overnight, then you will sign it and send it back.
Once we receive your paperwork and down payment, we will ship your vehicle to you. We have the ability to ship our inventory to all 50 states. Which allows us to serve customers all over the country.
Can I trade in multiple cars?
Absolutely, you may trade in as many vehicles as you would like. Even if you have more trade in value than the vehicle you are buying, we will be able to get you a check for the difference the same day.
Do you give any warranty on the cars you sell?
All of our cars are sold as is. Some vehicles still come with their remaining manufacturers warranty. We do have great extended warranty options for every car that we sell that would give you the peace of mind you desire. 
Can I buy an extended warranty on the car I'm buying?
Absolutely, we will have our finance team go over the available warranties with you. 
What if I buy the car and I don't like it?
Once you purchase the vehicle it does belong to you but we do have a 7 day return policy that includes a restocking fee.
Are prices negotiable?
We price our vehicles competitively, so every price you see on our website will be our bottom price. 
What kind of auto insurance do I need?
If you are financing whether it be with one of our banks or you own, full coverage ins is required. If you are paying cash, only liability is required
What are all your fees?
Every dealership charges a doc fee, ours is $599. On top of this you will be paying your local tax, registration and electronic filing fee of $99.
Can I register the car myself?
If you live in NC or you are financing we must collect all the fees up front, this being said we only collect what you will be paying to the state, no more no less. 
What does Pending Sale mean?
Pending sale means there's a deposit on the current vehicle.
Where does Impex get their cars?
We use many avenues to purchase vehicles. We have a network of buyers all over the United States that purchase vehicles from individuals and auctions.
How do I get a valuation for my trade in?
The quickest way to get a valuation is to call us at 336 271 5987. We will discuss the details such as the age, mileage, cosmetic or mechanical damage to your vehicle. We then use KBB and other automobile resources to give an indicative price over the phone, which is confirmed when you bring the vehicle to our showroom.
Purchasing a Vehicle Online is Easy
If you are choosing to pay cash to buy your vehicle outright, the process is just as simple. We will ship the paperwork to you along with a shipping label. We accept cashier checks or wire transfers for the purchase of your vehicle. Once we receive the appropriate documents and your funding, we will ship your vehicle to you.
Before any vehicle is shipped from our store, we give it a thorough inspection and a proper detailing. That way, you know you are getting a vehicle that is worthy of area roads.
Find Your Next Automotive Purchase Today
By choosing to purchase your vehicle online, you will be able to enjoy a number of benefits. You will not have to worry about making the trip to a dealership to find the right model for your needs. Better yet, you will be able to shop at your own pace without any high-pressure sales tactics. And that will allow you to take the proper time to find the right vehicle for both your budget and your lifestyle.
If you are ready to make an automotive improvement, we encourage you to shop at our online used car dealership. When you do, you will be able to find the ideal car, truck or SUV for your needs. We believe in no haggle pricing and competitive rates. Shop our online inventory today, and contact our team today to learn more.